Luxury Assisted Living Community in Mt. Airy, NC
– RidgeCrest –
When you become a Member of Assisted Living at RidgeCrest, you are signing up for more than just help with day-to-day tasks—you are joining a community dedicated to your happiness in every way. Our Mount Airy community provides person-centered care tailored to each individual and a lifestyle defined by premier social, dining and wellness programs. Members enjoy spacious private apartments that come with all regular maintenance, housekeeping and utilities covered. The driving purpose of our Assisted Living community is to promote our Members' independence, and everything we do is based around this goal.
Time and again, seniors and their families choose RidgeCrest for Assisted Living in Mount Airy. To learn more about our community, give us a call to speak with a lifestyle advisor or schedule a tour online.
All-Inclusive Monthly Pricing
We believe that you shouldn't have to worry about various "levels of care" or "points" charges, which are popular at many communities. Under this type of pricing model, your rate could increase at any moment, without any notice, just because you receive more care. RidgeCrest charges one all-inclusive monthly fee, which includes all of your Assisted Living care no matter how much you need. We want billing to be the least of your worries, and our pricing model reflects this.
At our community, you pay one rate for all your care while in Assisted Living.
Assisted Living Services and Amenities
RidgeCrest offers the following services and amenities:
Person-centered care in a luxury apartment home
A curated social and dining lifestyle that encourages families to visit often
An all-inclusive, transparent pricing model that's easy to understand and allows our families to plan long-term
A continuum of Care Services under one roof so future moves can be avoided
Medication management
Wellness classes and programs
Personal transportation
24-hour emergency call system
Professional hair care salon
In short, not only do we have multiple levels of care, we have multiple levels of fun. Mount Airy, we are glad to be your choice for Assisted Living.
Person-Centered Care
Members of Assisted Living benefit from close relationships with their caregivers, who provide them with personalized care on a day-to-day basis. Some Members need assistance with everything from dressing to eating to bathing. Others only help from time to time with specific tasks. No matter what your needs are, our caregivers are committed to providing nurturing support based on individual needs and goals. At RidgeCrest, Assisted Living is all about removing the stresses of daily life and promoting independence wherever possible. This allows Members to focus on what's important—spending quality time with their loved ones and making the most of every day.
A Premier Lifestyle
Our Assisted Living community's premier lifestyle is a big part of what distinguishes us. Our daily social calendar includes activities such as movie showings, art classes, musical workshops, leisure games, guest speakers and more. Our award-winning wellness program offers a variety of group fitness classes, which provide a great outlet for Members to stay active in a fun setting.
A major center for social life at RidgeCrest is our restaurant-style fine dining room, which serves delicious, made-to-order meals on a daily basis. Our menu is prepared by an executive chef, features a variety of daily and weekly specials and is adaptable to the dietary needs of Members. Food is one of life's greatest joys, and we've created a first-class dining experience to reflect this.
Get Started
Are you interested in Assisted Living at RidgeCrest? Would you like to learn more? Give us a call at 336-755-2995 to speak with a lifestyle advisor or schedule an appointment. We hope to hear from you soon!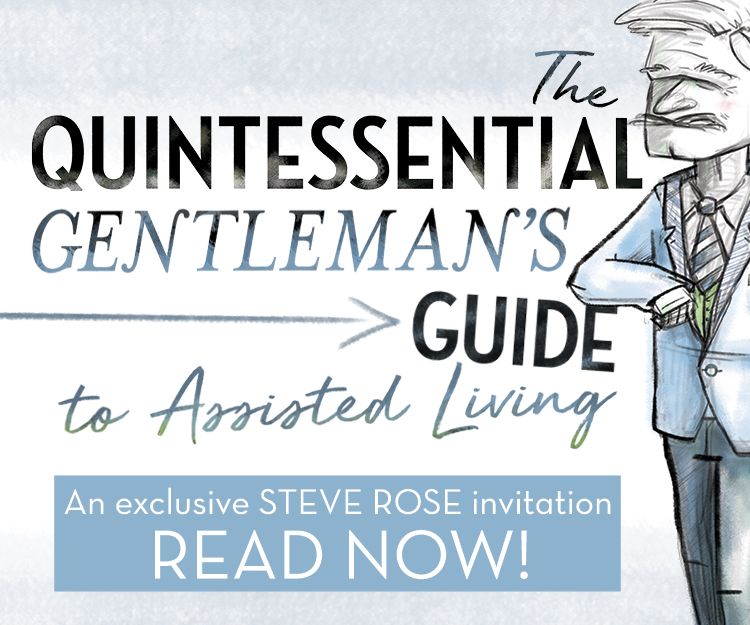 Steve Rose, a relatable gentleman, is struggling with the decision to move into Assisted Living as many seniors do. The Quintessential Gentleman's Guide to Assisted Living is a quirky 4-part informational series where we walk alongside Mr. Rose to learn about his obstacles and successes in his journey.