Independent Senior Living in Mt. Airy, NC
– RidgeCrest –
Independent living villa apartments prices start at $4,380 per month.
Call now for more information and availability.
RidgeCrest independent living apartments are tucked away at the foot of the Appalachian Mountains. Many choose retirement in the quaint town of My. Airy for the relaxing and calm atmosphere. At RidgeCrest, members experience retirement the way it's meant to be.
Our villa apartments offer an ideal setting for people looking to simplify their lives—removing the responsibilities home ownership while adding affordability, convenience, friends and good times. Floor plans range from 765 – 1008 square feet and are designed to promote freedom of movement with no steps or stairs. Each unit comes with a fully-equipped kitchen, one or two private bathrooms, and an in-home washer and dryer.
In case of bad weather or scorching heat, you never have to leave the building for the dining room, parties, mailbox, or movie night. Each apartment is connected via hallways and elevators to connect you to every floor. Click here to view our apartment floor plans.
If you're interested in learning more about RidgeCrest or have any questions, we invite you to speak with a Lifestyle Advisor or schedule an appointment.
Villa Apartment Floor Plans
Independent Living Services and Amenities
Our goal is to provide members with everything they need in one place so they can live longer, happier, and healthier lives. RidgeCrest offers an array of amenities you won't find at any other retirement community in Mt. Airy. RidgeCrest independent living community offers all the following:
Maintenance-free living – we are your plumbers, electricians and landscapers
Weekly Housekeeping – when needed, we are your housekeepers
Daily Dining – personal chefs for casual dining or fine dining with friends
Bill Payment – we take the stress out of paying multiple bills, you write one check
Transportation – we can serve as your chauffeur, but only if needed
Safety – 24-hour emergency call system
Pets Welcome – pets are family, so we invite them to stay!
Bring Your Own Furniture – feel at home, we invite you to bring your favorite pieces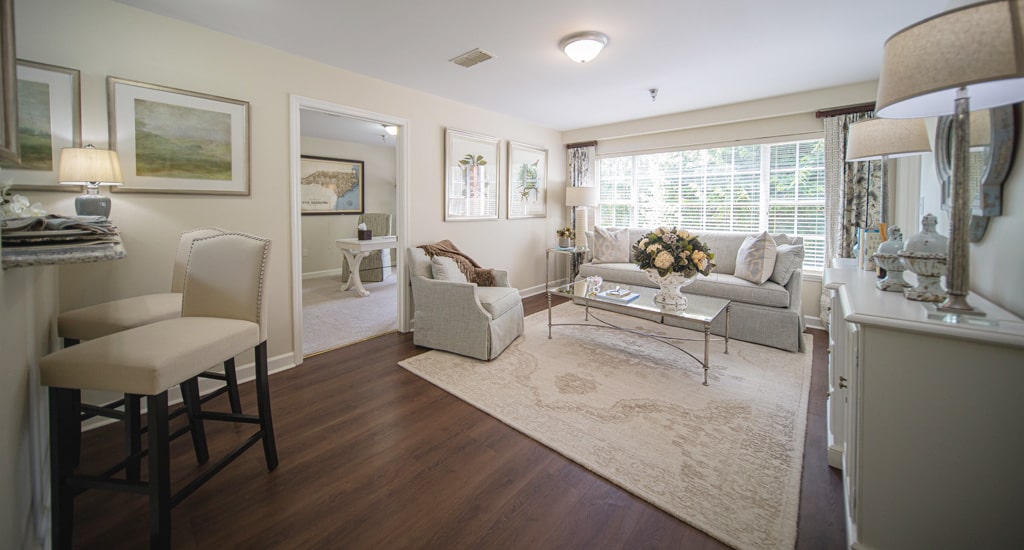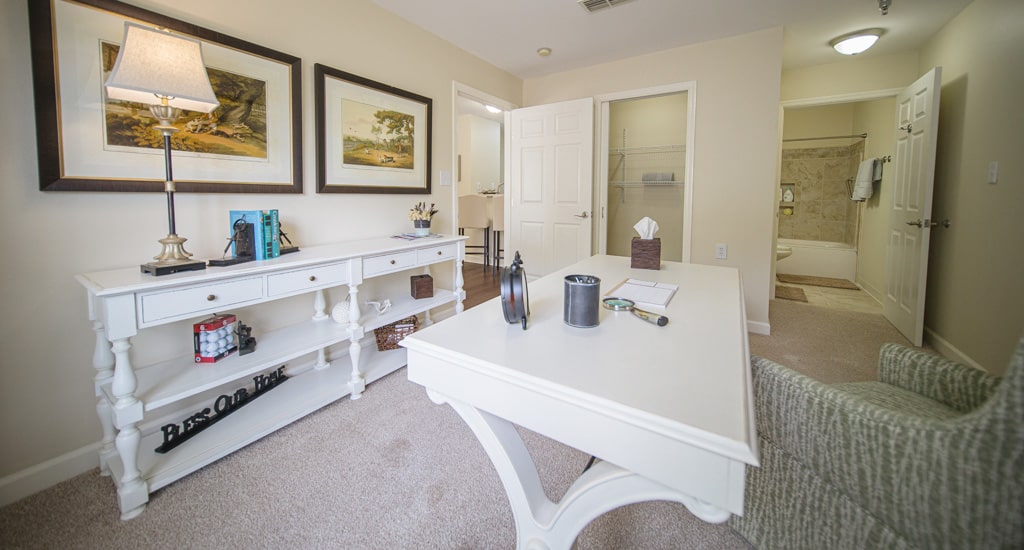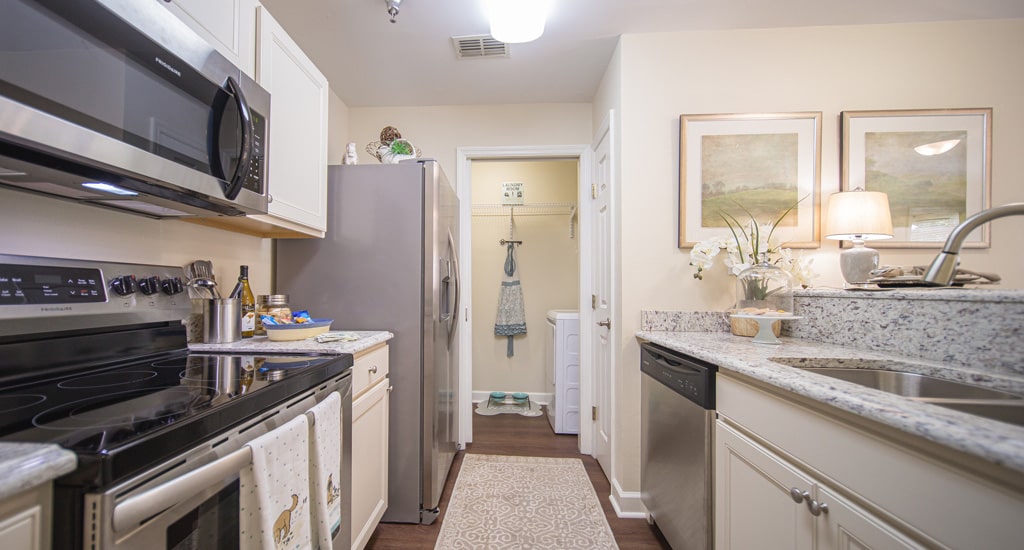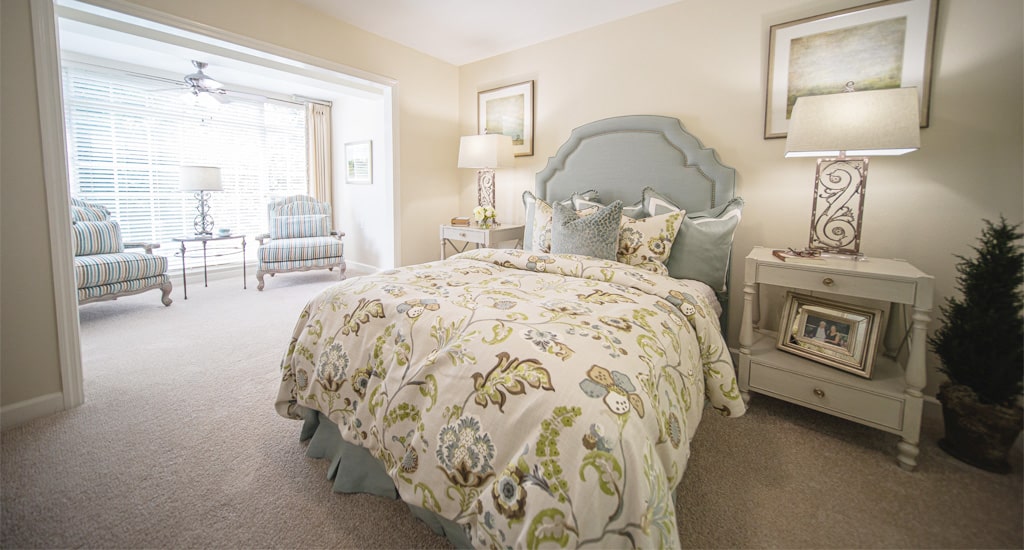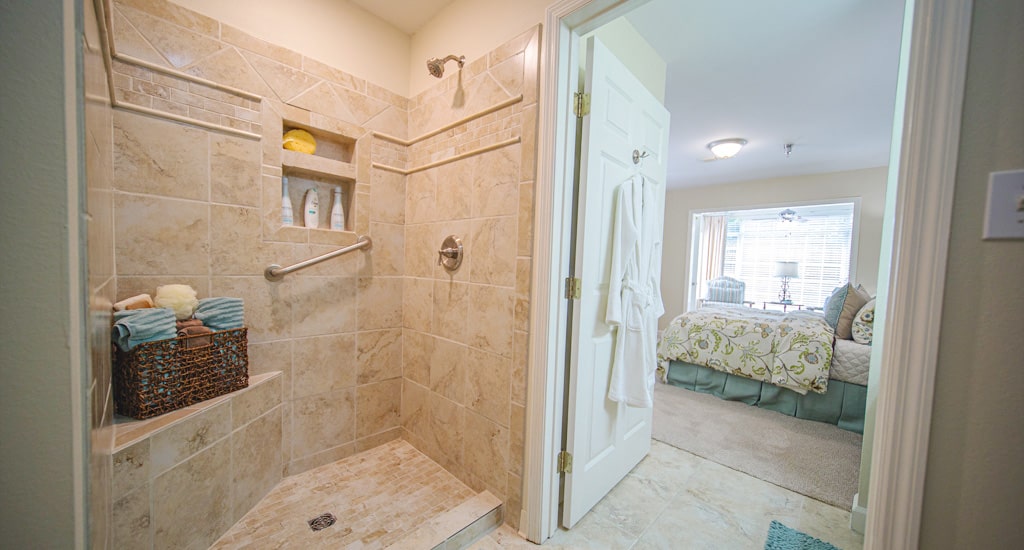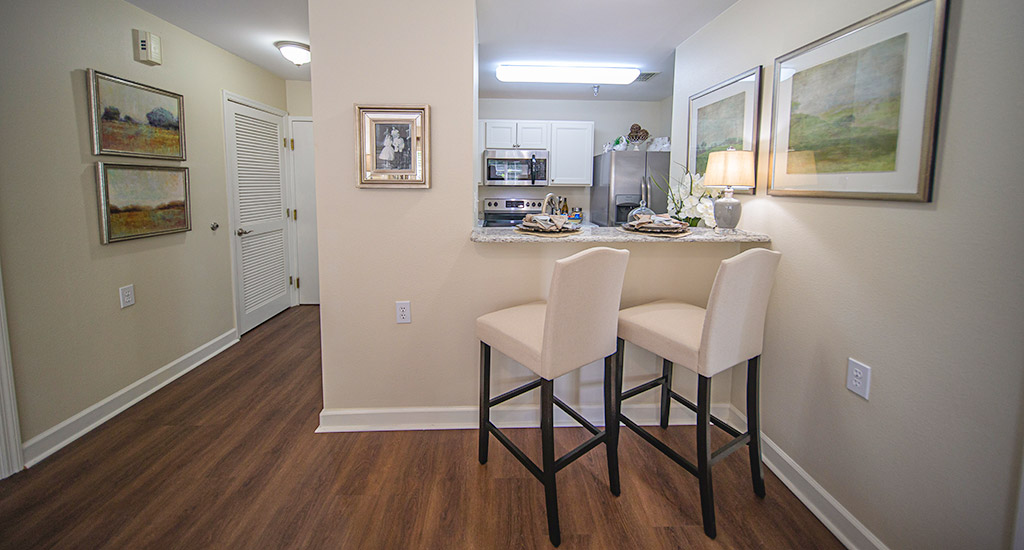 Majestic Mountain Retirement
One of our Members' favorite things about RidgeCrest is the location. While some retirees dream of living near the beach, others prefer picturesque mountain views and cool weather. Our independent living community is located just minutes away from small local shops, restaurants, and hiking trails. To learn more about what Mount Airy has to offer retirees, read our retirement guide.
Active and Social Lifestyle
At RidgeCrest, there's never a shortage of fun things to do, and this starts with our vibrant social programming. Our never-ending social calendar offers activities such as movie showings, leisure games, music workshops, art classes, bingo nights, shopping trips, happy hours and more. Events are catered to a variety of hobbies and interests, so there's a little something available for everyone.
For Members who like to get up and moving, we also offer an award-winning wellness program, which includes daily fitness classes at our fitness center. Members can participate in group classes as well as their own, personalized wellness plans. Wellness at RidgeCrest provides a great outlet for Members to stay active and have some fun while they're at it!
Members of RidgeCrest enjoy several common areas throughout our community, including a club house, spa, pub lounge, library, community garden and walking trail. Perhaps the most popular location is our restaurant-style fine dining room, which offers delicious meals prepared by an executive chef. With an eclectic menu made up of both regular favorite and daily and weekly specials, our dining experience is something special.
When you combine maintenance-free Independent Living with a vibrant community lifestyle, you get a place where Members don't just live—they thrive!
A Plan for the Future
When you join our independent senior living community, you are planning for both now and the future. RidgeCrest offers Assisted Living along with our Independent Living community. If you require more care as you age, you can make the transition easier by staying in the same community. That's just one more part of the RidgeCrest difference.
Get Started
Are you interested in Independent Living at RidgeCrest? Would you like to learn more? Give us a call at  336-755-2995 to speak with a lifestyle advisor or  schedule an appointment. We hope to hear from you soon!